This month's installment of Boys Behind the Blog is very exciting for me because I've sponsored one of our fabulous hosts for the month! Mal's blog has been a source of fitness inspiration for me and you might be able to tell with the recent few posts kicking off a hopeful reduction in my L-Bs.
Mal is an amazing person and if you're here because of her, well, I'm sure you'll agree! If you haven't "met" her yet, head right on over to her blog.
Now, check out the Husband's answers to this month's Boys Behind the Blog questions!
If you were an animal, what animal would you be?
I would have to say the Peregrine Falcon. They are the fastest bird in the world which gives them an advantage over every bird in the sky. They nest high up in mountains or cliffs all over the entire world. They are extremely aggressive, fearless, and fast; thus making them elite hunters. The Peregrine Falcon's characteristics and majestic display make it one of the most unique animals on the earth. They can also be domesticated by humans and used as hunting companions. They have no natural predators and generally live up to about 16 years in the wild.
via
What is your favorite meal?
Sushi. It doesn't even have to be anything fancy, just the regular maki rolls or pieces of nigiri will do. When it comes to sushi I also like to try new things and expand my horizons. Sea Urchin, Salmon Roe, Octopus, Squid, Sea Bass…….it would be difficult to name a piece of sushi that I haven't tried. I am also avoiding watching the movie Jiro Dreams of Sushi on Netflix Streaming because I know I would want to have sushi either during or right after I watched it. I would eat sushi 365 days a year, 3 meals a day…..no, 5 meals a day.
Do you use any forms of Social Media? What is your favorite?
I don't really have a favorite form of Social Media, I do maintain a Facebook but that's about it. I don't like having to big an online footprint and I mainly use Facebook as another way to communicate with friends. I do enjoy paying attention to what is happening via world, national or local news, but I don't feel the need to really participate with that in the world of social media. I still don't really understand what the point of a hash tag is, I mean I have a general idea of what it is, I just don't care enough to get a twitter and start hash tagging my morning hash browns.
I don't need a Pinterest, Twitter, Instagram, Google+, Vine, Flickr, MySpace, Tumblr, or a Foursquare. Its just too much to manage.
Beer, wine, liquor, other, or none of the above?
It depends on the beer, wine, or liquor and what mood I am in. For beer I generally prefer craft beer from unique small breweries. My wine of choice is a red like a Pinot Noir or a Sangiovese. I prefer to drink liquor much less often, but there is nothing wrong with a good scotch on the rocks, or a nice vodka to go with an amazing Bloody Mary.
Complete the sentence: "Never have I ever…"
………..seen mosquitoes worse than the time I went on a canoe trip to Wabakimi Provincial Park in Ontario, Canada.
Wabakimi is about 160 miles north of Thunder Bay. It had rained for 3 straight weeks prior to our arrival, and while we were on the trip it was hot and muggy with zero wind. It was the perfect mosquito storm. We couldn't do anything without being swarmed, and had to be in multiple layers with our bug nets on just to sit in camp. While we were in our tents at night, we were treated to the loud constant hum of trillions upon trillions of mosquitoes who hoped we made a mistake and left a zipper open a crack. The only relief from the mosquitoes was to get in a canoe and head out to the middle of a lake……after we took the time to kill every mosquito that had landed on the canoe; and I'm not exaggerating………every spot on the canoe was covered by giant Northern Canadian Mosquitoes. It was awful.
Husband's dad, cousin & brother, in order.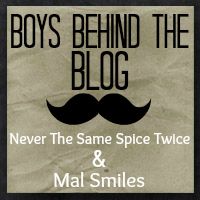 Thanks for stopping by!
Make sure to stay in touch by following me on:
BlogLovin' | Instagram | Twitter | Facebook