On this Monday morning post-Puppy Week while I survive off very little sleep, I bring to you two of my wonderful sponsors and a chance to win $50 in a giveaway hosted by one of them. Sounds like a good way to start the week, right?
Check back later for Trudy's first official photo … and a shot of both Kate & Trudy together for the first time! I promise you don't want to miss it – we're beyond in love!
Now, on to my lovely September sponsors!
___________________________
Hi everyone!  I am so happy to be here today to introduce myself and my humble little blog.  My name is Kate, and I'm the lady over at Like American Honey.  I grew up in Florida, went to college in Philadelphia, and have now settled outside DC in Northern Virginia.  I'm a Southern girl and homebody at heart who loves to whip up a good party, decorate our house with fun DIY projects, and explore my new home in Virginia.  My husband and I happen to share our world with two little doggies who definitely run the show and almost always tag along for whatever we have going on.
Favorites | Snuggling with the puppies | Road trips to get away from it all | Lazy weekends with the husband | Crisp fall mornings | Handwritten notes
Connect | BlogLovin' | Twitter
___________________________
I'm a TOTAL girly girl! I LOVE all things pink & glittery…you can definitely tell that from my blog. I love God with all my heart and I was born and raised in the South! I am in pharmacy school which has currently taken over my life! Stop by my blog & swap buttons with me! I LOVE meeting new bloggers! XOXO!
Favorites | Bible | Pearls | Purses | Glitter | Friends
Connect | BlogLovin' | Twitter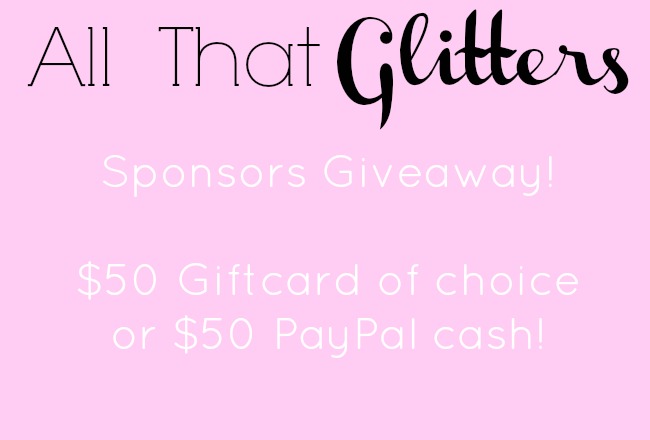 $50 giftcard of your choice OR $50 PayPal cash!
Check out all of Rebekah's sponsors (I'm one of them!) below & enter to win.
Hayley//Noor//Katie//Tara//Jessica//Samantha
Enter below using the Rafflecopter widget! All entries will be verified. Void where prohibited.
GOOD LUCK!